About the show: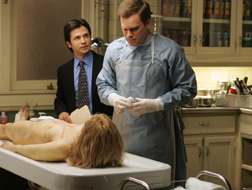 One of TV's most acclaimed drama series, the Emmy®- and Golden Globe®-winning Six Feet Under concludes its groundbreaking, five-season run on HBO this summer with 12 all-new episodes. Created and executive produced by the Oscar®-winning writer of American Beauty, Alan Ball (also an Emmy®-winner for this show), Six Feet Under continues to focus on the cathartic journey of the extended Fisher family, whose personal trials and tribulations are played out against the solemn backdrop of an independent funeral home in LA.

This season, story elements established in the first four seasons reach a series of emotional climaxes, with Ruth overwhelmed by her mentally fragile husband George, Nate struggling to reaffirm his relationship with Brenda while raising his daughter Maya, David and Keith longing for children of their own, Claire trying to broaden her horizons, and Federico attempting to fill the void left by Vanessa. By season's end, each of the main characters will come to embrace the cycle of life - birth, death, and rebirth - in ways that are both unique and interconnected.

A breakout hit for HBO, Six Feet Under was created, co-written and executive produced by Alan Ball, who wrote the hit film American Beauty, winner of five Oscars® including Best Picture and Original Screenplay (Ball). Last year, the Producers Guild of America honored Ball and fellow SFU Executive Producers Alan Poul, Robert Greenblatt and David Janollari with the Norman Pelton Producer of the Year Award in Episodic Television - Drama.

Six Feet Under was nominated for two 2004 Golden Globes®, with Frances Conroy winning for Best Actress in a Television Series - Drama, and won two 2004 Screen Actors Guild Awards (Conroy and the ensemble cast). The show has received 32 Emmy® nominations and won seven times, and has been nominated for eight Golden Globes®, winning three.

SFU's highly promotable cast regulars include Peter Krause (We Don't Live Here Anymore) as elder son Nate, nearing his 40th birthday and struggling to create a happy family with Brenda and daughter Maya; Frances Conroy (The Aviator) as matriarch Ruth, already feeling trapped in her new marriage to George; Michael C. Hall (Paycheck) as younger son David, finally enjoying stability in his relationship with boyfriend Keith (Mathew St. Patrick), a personal bodyguard; Lauren Ambrose (Psycho Beach Party) as rebellious daughter Claire, still pushing the envelope with her art; Rachel Griffiths (Hilary and Jackie, Golden Globe® winner for this role) as Brenda, now studying to be a therapist; Freddy Rodriguez (Chasing Papi) as mortician/partner Federico Diaz, still separated from his wife and now dating; Justina Machado as Vanessa, increasingly liberated without Federico, and James Cromwell (Angels in America) as George, Ruth's now mentally fragile husband.

Highly promotable returning guests include Lili Taylor (High Fidelity) as Lisa, Nate's deceased wife; Kathy Bates (HBO Films' Warm Springs, Oscar® for Misery) as Bettina, Ruth's pal; Joanna Cassidy (Under Fire) as Brenda's mother Margaret; Peter MacDissi as Olivier; Patricia Clarkson (Emmy® for this role, The Station Agent) as Sarah, Ruth's sister; Jeremy Sisto (Thirteen) as Billy Chenowith, Brenda's unstable brother; Veronica Cartwright (Scary Movie 2) as Peg, Lisa's mother, Ileana Douglas (To Die For) as former employee Angela, Tina Holmes (Storytelling) as George's daughter Maggie, Catherine O'Hara (A Mighty Wind) as Carol, Matt Malloy (HBO Films' Elephant) Roger Pasquese, now Keith's boss, Jennifer Elise Cox (The Brady Bunch Movie) as Mary, and Richard Jenkins (Me, Myself & Irene) as Nathaniel, the deceased patriarch.

New Season Five directors include Mary Harron (HBO Films' The Notorious Bettie Page) and Joshua Marston (HBO Films' Maria Full of Grace), with SFU executive producer Alan Poul returning as a director, and creator Alan Ball slated to direct the series finale.

Season Four received raves from The Wall Street Journal ("...the best drama ever on television, a work of art"), The Boston Globe ("continues to unearth brilliance..."), Newsday ("...masterful...refreshing..."), and Washington Post ("the perfect drama...fascinating...").
Recaps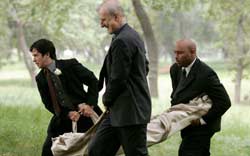 61 "All Alone"
Directed by: Adam Davidson
Written by: Kate Robin

Synopsis

In the hours following Nate's death from a brain hemorrhage, David copes with his pain by planning his brother's funeral. He explains to Brenda and Ruth that Nate wanted a green funeral with no embalming or casket, just burial in a plot of land that's protected by a nature preserve.

Keith prepares Anthony and Durrell for Nate's memorial service but is interrupted by a frantic phone call from Roger. A tweaked-out actor named Trevor is trashing Roger's house and Keith needs to get Trevor out of town immediately. At the airport, Trevor reveals that he's seen footage of Keith and Roger having sex; the tryst between the two men was videotaped without Keith's knowledge. Furious at being betrayed, Keith calls Roger and quits his job.

With Ruth too bereft to take care of herself, Bettina comes to the house to help. When Ruth learns that there will be no preservation or viewing of Nate's body, she becomes even more distraught. She takes the last opportunity to see her son's body by helping David in the prep room as he washes the blood off Nate's scalp.

Maggie comes by Brenda's house with some food and Brenda accuses her of being responsible for Nate's death, asking, "What is this? Some Quaker thing? You f#$@ someone's husband to death and then bring them a quiche?" Brenda also struggles with how to tell Maya about Nate's death. Her mother Margaret is - unsurprisingly - of little comfort. Brenda soon succumbs to her grief and overwhelming anger with her dead husband. She drops Maya off at the funeral home, asking Ruth to baby-sit for a while.

Desperate to escape her misery, Claire asks Ted to take her for a drive and they hit the road with no particular destination in mind. Although she's only known him a short time, Claire feels comfortable crying in front of Ted and wonders aloud why she's only able to recall painful memories of her brother. When she's ready, Ted takes her back home and she arrives just in time for Nate's memorial service to begin.

At the memorial service, David is haunted by images of Jake, the hitchhiker who attacked him. While eulogizing his brother, he suffers a panic attack and has to leave the Slumber Room at once. Federico speaks lovingly of his friend and business partner, and then George surprises everyone with his wisdom and comforting words. Afterwards, Ruth invites George to join the family at Nate's burial in a wooded nature preserve.

At the burial, David suffers another panic attack and seeks shelter in his car. Without his help, Federico, George, and Keith struggle to carry Nate's body out of the hearse. After Ruth helps David overcome his fears, he joins the family by Nate's open grave and Aunt Sarah reads aloud a poem from the Mystic Odes of Rumi.