Cast and Crew :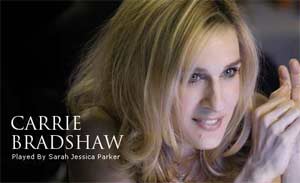 "The only thing I've ever successfully made in the kitchen is a mess. And several small fires." - Carrie

No one captures the lives of the lovelorn and the love-seeking in New York City better than columnist Carrie Bradshaw does. As fodder for her column, single and fabulous Carrie looks to the experiences of her best friends and her own. Never shying away from difficult or delicate subjects, Carrie has covered everything from emotional dependence to sexual independence. And somehow, through all her research and realizations, she's remained open to the possibility of finding love among the ruins.

Of all her paramours over the past few years, no one has captured and frustrated Carrie's heart as much as Mr. Big. Their sexual chemistry was undeniable, as was the fact that Big would never fully commit to Carrie.

And every time Carrie mustered up the strength to say goodbye, there he was, driving up in his chauffeured car and luring her back with his charm. Until he married. Then, along came the anti-Big, Aidan Shaw - good-hearted, good-looking, emotionally honest and ready to commit. Carrie fell for Aidan's authentic charm. Still, the bad girl in her couldn't sever itself from Big and she embarked on a torrid affair with her married ex. When she came to her senses and ended the clandestine tryst, she confessed to Aidan and watched him and his broken heart walk away.

Until Season Four, that is, when Carrie and Aidan were reunited - each a little older and wiser. However, at each step forward in the relationship - living together and then getting engaged - Carrie was overcome with doubt. She struggled to quiet her fears, but ultimately realized she wasn't quite ready. When Aidan pushed her, she realized he still did not trust her and the relationship ended with heartbreak and a desperate need for a bank loan. Single again, Carrie turned to getting her life in order. She moved from being a "renter" to an "owner" and put her career on a new track with a job at the mecca of fashion journalism, Vogue. Nothing signaled the "end of an era" more than Big's decision to move to Napa, California. Carrie said goodbye to her past and faced her future with renewed strength and hope.

In Season Five, Carrie struggled to define herself - and her weekly column - outside of a relationship. With the publishing of a book of her past columns, her career became front and center. Yet despite of or perhaps because of her professional success, Carrie became increasingly cynical about love. Upon meeting fellow writer Jack Berger, she felt that unmistakable "spark" - but Jack was spoken for. On a book tour to California, Carrie reunited with Big for a night and satisfied her longing for some sexual satisfaction. But realized, that even no-strings-attached sex with Big is never simple. Back in New York, Carrie crossed paths with Jack again and learned he was newly single. After a promising flirtation in the Hamptons, Berger got nervous and backed off. But while dancing at a wedding the two decided to overcome their fears and go out on a date before breaking up.

Unforunately, as we learned in Season Six, Berger wasn't Carrie's perfect man. Despite the seemingly ideal pairing of two professional writers, Berger just couldn't cope with Carrie's growing success. Carrie's luck with men stayed consistent (consistently bad) with a horrible fling with a friend of Harry's, followed by a heartbreaking experience with Big. Then, when she least expected it, Ms. Bradshaw met the world-renowned artist Aleksandr Petrovsky, a man that seems to have swept her off her feet with his European charm and natural charisma. Perhaps the mysterious Russian will prove to be the man that will finally be able to keep up with Carrie for good.

Fashion Sense

The most fashion-forward of all the Sex and the City girls, Carrie's style defies all categorization. Rummage through Carrie's closet and you'll find haute couture pieces side by side with vintage frocks, downtown club wear and miles of Manolo Blahnik stilettos. Carrie expresses her eclectic, whimsical self and that of her city through a masterful and sometimes outrageous mix of these styles. A fashion chameleon, Carrie can start her day looking like a streetwise pixie, change into a neo-bohemian outfit for lunch, don an elegant princess dress for dinner and slip into a skin-baring ensemble for a late-night party. Every season, she makes a signature statement through her accessories. First it was the nameplate necklace, then the flower pins, and "baguette" bags and then, gloves, newsboy hats and the diamond/gold stackable jewelry from Mia and Lizzie.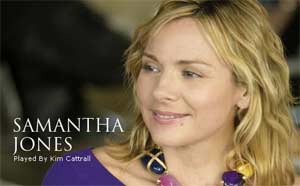 "Sex with an ex can be depressing. If it's good, you don't have it anymore; if it's bad, you just had sex with an ex." - Samantha

Scintillating Samantha is a successful PR exec who knows what she wants - and most of the time, she gets it. She radiates confidence in everything she does, whether it's landing a star client, getting a table at the trendiest restaurant or bedding the hottest guy in a room. Samantha embraces her uninhibited sexuality with a diverse (and large) group of lovers, from wrestling coaches to power bachelors to a studly farmer. Forget wedding dreams; Samantha takes lust over love any night, and she's proud of it. Once, she even experimented with lesbian love, but when her "girlfriend" demanded more intimacy, Samantha knew it wasn't going to work out.

Her next conquest, the unabashedly confident ladies' man and hotel magnate Richard Wright, seemed Samantha's perfect match. But as the sexual affair progressed, Samantha found herself feeling much more than lust, and she eventually declared her love to Richard. Somewhat resistant, Richard offered to try monogamy. When Samantha caught him cheating on her, she was thrust into uncharted territory : the land of the broken-hearted.

Samantha gave Richard one more chance, but the trust had been broken, and around every corner she imagined he was cheating. She chose to walk away from him, scarred but with her dignity.

When Samantha met the sexy Smith Jerrod, the last thing on her mind was a long-term monogamous relationship. However, the "Absolut Hunk" got under her skin like no one had ever been able to do. Despite her constant denials (both to the girls and to herself), she found herself completely falling for Smith. Has Ms. Jones finally found herself the one man that can keep her satisfied in every way? Only time will tell.

Fashion Sense
Samantha's high-power lifestyle demands a wardrobe ready to make a statement at every occasion. For work, she gravitates towards body-accentuating suits in bold colors and at night she turns up the volume with racy ensembles that show off her bombshell figure and personality.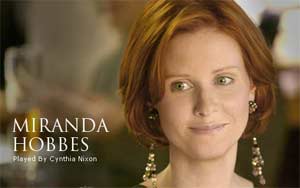 "Do any of you have a completely unremarkable friend or maybe a houseplant I could go to dinner with on Saturday night?" - Miranda

Miranda is smart, self-assured and proud of her achievements. She raises the bar for herself continually, be it in her professional or personal life. She made partner in her law firm and was able to buy her own pre-war apartment on the Upper West Side (Take a look inside). However, she's struggled with her love life and, at times, abandoned the pursuit of love altogether. Tough and down-to-earth, she doesn't open up easily, masking her vulnerability with cynicism and self-deprecating humor. Throughout her long-term relationship with Steve, she had bouts of doubt about her true feelings and was constantly frustrated with Steve's laid-back approach to life.

His attempts to bring their relationship to a new level only seemed to push her farther away. They gave up, but managed to salvage their friendship. Much to her dismay, Miranda's post-Steve dates haven't panned out. When Steve lost one of his testicles to cancer, Miranda boosted his male morale with a night of passion. Shortly after, she realized she was pregnant. She had every intention of having an abortion, but minutes before the procedure, she had a change of heart and decided to keep the baby. She wondered if this was her last chance at motherhood. As her pregnancy progressed, she feared she didn't have a maternal instinct and struggled to juggle her demanding career with her new identity as a mommy-to-be. Nature took its course, and, with Carrie and Steve by her side, she gave birth to Brady Hobbes.

Not shockingly, Miranda grappled with her new role as a single working mom. She had to come to terms with how being a parent would change her relationships with her friends and any new man that might come along. And Miranda and Steve accidentally rekindled their sexual relationship one night, forcing Miranda to take a hard look at her complicated attachment to Steve. A brief relationship with the dashing Dr. Robert Leeds ultimately ended, due to Miranda's feelings for Steve, but fortunately, Steve's feelings proved to be mutual and the two decided to make another go at it.

Fashion Sense
For pragmatic Miranda, fashion is more about getting the job done than following the latest trends. By day, her lawyerly look tends towards smart tailored suits. This year we've seen her experiment more with color, especially rich wines and purples that accent her fiery red crop. Though she tends toward casual sportswear on the weekend, she keeps up with the girls just fine in sexy slip dresses and funky accessories. Take a closer look at Miranda's style in our fashion slideshows.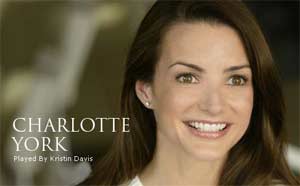 "If you had a patient who had a very very slim chance of living, would that be good news? Would you tell the family, "Buck up, he's got a shot in hell?" - Charlotte

Charlotte has a refreshingly optimistic outlook on love and romance amidst the ever-complex dating scene of NYC. Well-bred, she walks through life with a perfect sense of decorum. And a lot of idealism. For years, Charlotte had a crystalline vision of the life she wanted to have. First and foremost, she wanted to get married. She wanted true love. And she wanted her husband to be wealthy, handsome and belong to the social elite. Dr. Trey MacDougal seemed her Prince Charming, but her marriage was far from what she had hoped it would be.

Not one to give up easily, Charlotte worked hard at her less-than-perfect union - from dragging Trey to sex therapy to confronting her meddling mother-in-law Bunny to quitting her art gallery job to devote herself to wifely duties.

The sex got better, but when Charlotte decided it was time to procreate, things began to unravel again. Unable to conceive naturally, she started hormone therapy and considered adoption. Trey's reaction to Charlotte's determination was to pull away and question the decision to have a child. As Charlotte became aware of their very different visions of the future, their marriage quickly dissolved. Giving up her dream of holy matrimony hasn't been easy, but Charlotte hasn't become embittered about love or life.

Charlotte met her 36th birthday as a divorcee and came face to face with her fears of becoming an old maid. Chin up, she followed the relationship advice of self-help gurus but had trouble letting go of her feelings of disappointment and disillusionment over the end of her marriage. But ever the optimist, Charlotte continued to believe in love. When her uncouth divorce lawyer, Harry, proclaimed his lust for her, Charlotte threw aside her prim and proper ways and had sex for sex's sake. As the affair continued, though, she realized she might be falling in love with a man who represented everything she thought she didn't want.

This realization lead Charlotte to convert to Judaism in an attempt to land Harry, who had promised his dying mother that he would only marry a Jew. Charlotte successfully made the conversion, but was so stressed out from the whole process that she blew up at Harry, causing the pair to split. Several weeks of moping around came to an end when the two ran into each other at a mixer, with the couple becoming engaged to be married minutes later. The actual wedding ceremony was somewhat bumpy, but all indications are that Charlotte has finally managed to find herself the perfect man.

Fashion Sense
Charlotte's wardrobe reflects her Park Avenue lifestyle and feminine charm. Her classic and chic style is timeless. Pastel pieces coordinated with matching accessories show off her girlish side.